Science-supported biosecurity decision making
Aquatic invasive species (AIS) managers are tasked with preventing the spread of many AIS moving through a highly complex and interconnected waterways system, often with limited resources to do so. A data-driven approach to identify and prioritise waterbodies of high risk of invasion is needed to help inform effective and efficient control programs.
aisexplorer.umn.edu
The AIS Explorer visualises infection status and an estimated risk score for each lake, as well as incoming and outgoing boater movement, and waterway networks in an engaging and easy to explore format designed to match stakeholder needs.
Lake status is regularly updated through an automated data pipeline to ensure latest data and risk estimates are easily accessible. This allows smart use of data for rapid detection and response to biosecurity threats in a practical and cost-effective way.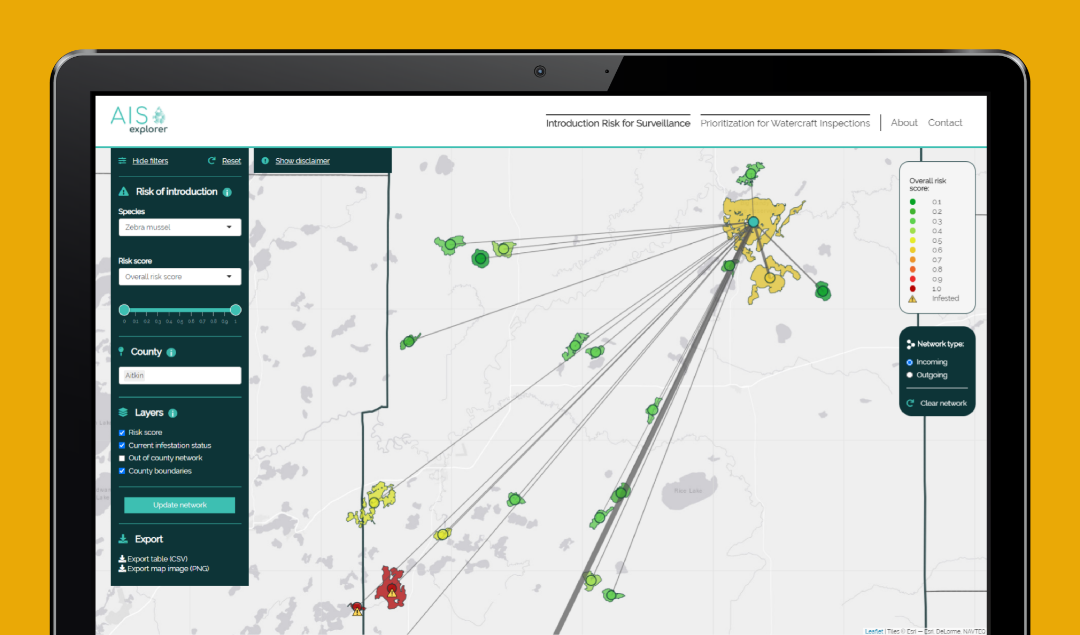 Connecting cutting edge research with everyday decisions
This project showcases how quantitative risk modelling, implemented in specialist software, can be directly linked with operational decision-making in biosecurity, and connect field work conducted by regional authorities with cutting edge science in a timely manner. The AIS Explorer supports stakeholder engagement and smart use of data for rapid detection and response to biosecurity threats in a practical and cost-effective way.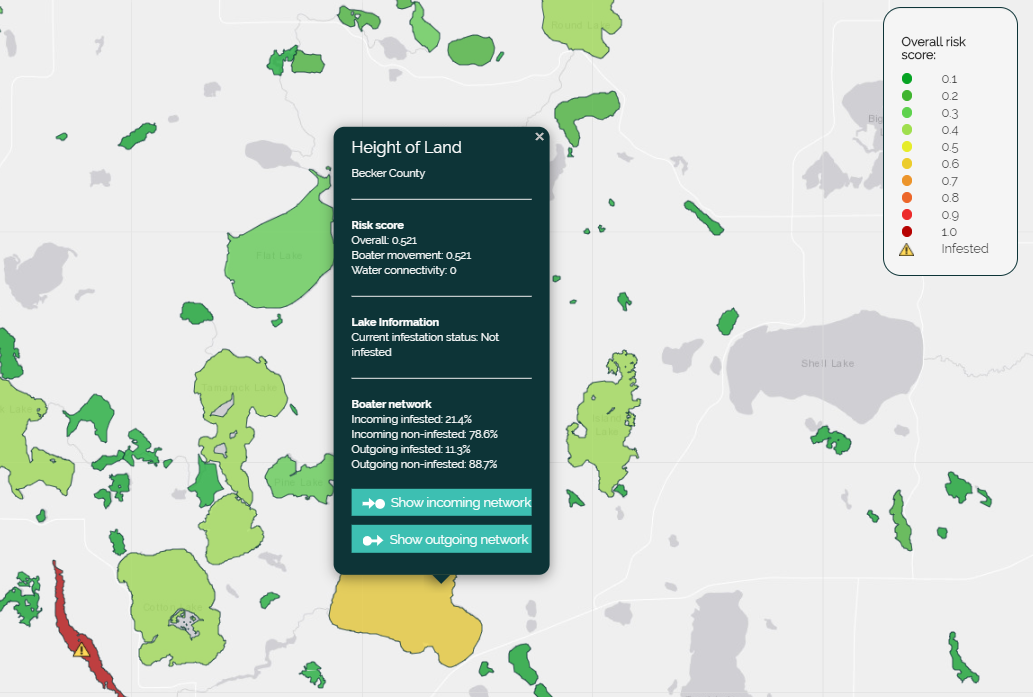 During inspections, survey data about the location of boating activities is collected. This has been used to develop boater movement networks across all waterbodies. The power of these networks has been harnessed through the development of county-level watercraft inspection plans that outline the optimal location of watercraft inspections for "risky" movements (leaving infested waterbody, arriving at uninfested waterbody) for each county.
Using AIS Explorer resource managers, who are responsible for thousands of waterways, can optimise their limited resource by accessing science-based recommendations on which lakes inspectors should be placed at for the best effect. Ranked inspection lists can be generated for zebra mussels, starry stonewort, Eurasian watermilfoil, spiny water flea and any combination thereof.
Kinsley AC, Haight R., Snellgrove N, Muellner P, Muellner U, Duhr M, Phelps NDB. Improving the efficiency of aquatic invasive species prevention: an interdisciplinary approach. North American Invasive Species Management Association, 2021.
Kinsley A, Muellner P, Snellgrove N, Muellner U, Phelps N. Using complex models to support every-day biosecurity decisions for aquatic invasive species. Poster Session, One Health Aotearoa (OHA) Symposium, New Zealand, 2020.
View the conference presentation poster
Kinsley A, Haight R, Snellgrove N, Muellner P, Muellner U, Duhr M, Phelps N. AIS explorer: Prioritization for watercraft inspections-A decision-support tool for aquatic invasive species management. Journal of Environmental Management, 314 doi: 10.1016/j.jenvman.2022.115037, 2022.
Available here